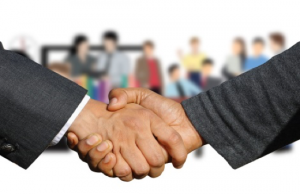 This exercise introduces the topic of negotiations. This session adds an interactive element to your training: the participants can exchange their experiences and create their own Do ́s and Don ́t. The exercise offers a good transition to the main teaching part.
Here you can find the material and information on its use  for the excercise.
While, here you can find the presentation on negotiation skills and information on its use  for the teaching part.
This material is licensed under a Creative Commons Attribution 4.0 International License (CC-BY). You are free to share and adapt the materials for any purpose with attribution and for non-commercial use.

We are happy if you drop us a line when re-using the materials to learn about their dissemination: contact@s4d4c.eu
Exercise on Negotiations Skills